Jeepers United
As I write this, I have an earpiece hanging on my right ear. That piece has a wire connecting it to a 2.4 Ghz phone hanging on my belt. It's not a cell phone, just my office phone. I am listening to very light jazz buzzing into my right ear even as I type this line. Every, I'd say, 20 seconds or so, a male voice, obviously automated (or someone without any tone inflexion and a very boring job) interrupts the light jazz to say, "Our representatives are currently busy. Your call will be answered in the order it was received." It has been 14 minutes since I originally dialed the number so I've heard that line roughly 42 times. I'm not a fan of light jazz, so it's ok to interrupt the music, but I heard you the last 41 times.
Since I am at work and getting paid for my time to sit on the phone and listen to crappy music and automated messages, I actually don't mind the wait.
Now to explain who I've called. I am a proud Jeep owner, a 2000 Wrangler, and the phone number I've dialed that I am patiently waiting to be helped on is part of the registration process for an annual event Jeep throws for all of its loyal customers called
Camp Jeep
. This is my second year going. I did attend Camp Jeep 2002 and am trying to make it two in a row. I had a great time last year, there is so much to do. Jeep allows a lot of corporate sponsors to setup a booth, but it's more than a booth, you can try out their products for free. For example there are ATV's you can ride, paintball arenas, swimming pools, scuba, video arcades, rock climbing, all sorts of activities.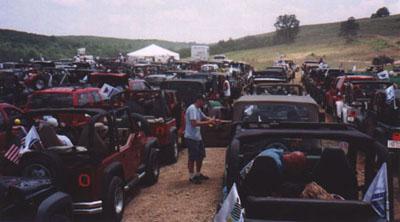 Camp Jeep 2003 will be a special event for me as it is doubling as my honeymoon. We planned to make this trip quite awhile ago (since Camp Jeep 2002), and then at some point decided to get married. The date we picked happens to be the week before our trip so we decided to make it an official honeymoon. At Camp Jeep you have the option of camping out on the grounds or picking a close by hotel to live at for the duration of the event. We'll probably be going with the hotel for some strange reason. My tent doesn't have a threshold (or does it?).
Looking forward to it. More about it later I'm sure.